THE CLIENT: BRIAN PEDONE AND QUIET PUNCH
Quiet Punch enables one to get in a boxing workout virtually anywhere, any time without disturbing other household members or neighbors, and without leaving unsightly marks on the door frame or wall. It can be used in apartments, houses, hotel rooms, and even at the office, and can be set up in less than a minute and taken down in half of that time. Additionally, Quiet Punch comes with a selection of easy-to-follow routines created by Brian himself, and is perfect even for those with no boxing experience.
Quiet Punch creator Brian Pedone is a man of two great passions: boxing and entrepreneurship. He began boxing in his early teens, and by age 19 was competing at an amateur level. While studying computer science at college, Brian opened a boxing club catered toward high school-aged youth. His club soon evolved into a team, for which Brian was head trainer. Fueled by this momentum, in his twenties, Brian opened two boxing gyms whose combined membership grew to over 300 people. Brian was and remains especially passionate about helping young people gain direction in their lives.
As his career as a boxing trainer took off, Brian also explored his vast potential as an entrepreneur. First, he entered a business plan competition for a plagiarism detection software concept, and was awarded startup funds for his first tech company. In 2008 Brian was featured in BusinessWeek's Top 25 Entrepreneurs 25 Years and Under in America for both his software business and his boxing gym. After 10 years of running his first gym, he relocated to New York City and founded a new boxing gym, Boxing For All, which catered to corporate workers who wanted to learn to box. While teaching his new clients, Brian realized that they needed a way to practice back in their apartments and on the road. Thus began the product development journey that led to Quiet Punch.
In 2013, Brian came to PRG Prototyping with his vision of an easy-to-use boxing practice rig that could be packed away in a bag for convenient travel and installed in a doorway for exercise virtually anywhere. He also emphasized that it needed to be quiet so that it could be used in an apartment, hotel room, or anywhere else where getting in a workout might run the risk of bothering the neighbors.
The product prototyping process began with Brian's rough sketch: a cushioned boxing pad with an X design that could be affixed to a doorway, and which would bounce back from each punch quickly so that it could be hit over and over again.
THE CHALLENGE
The challenge was to develop something from a rough sketch that could be built to take a fair amount of punishment and snap right back. It had to be durable, and, of course, it had to be quiet. PRG turned to our in-house industrial designer and had him transform this sketch into something real. Our design and engineering crew then started on the prototype. "Building a product prototype is like building a house," says Tyler Harrell of PRG. "You have to plan for what you want it to look like and then have an architect make sure that it's structurally sound. And in our world, that's the engineering department."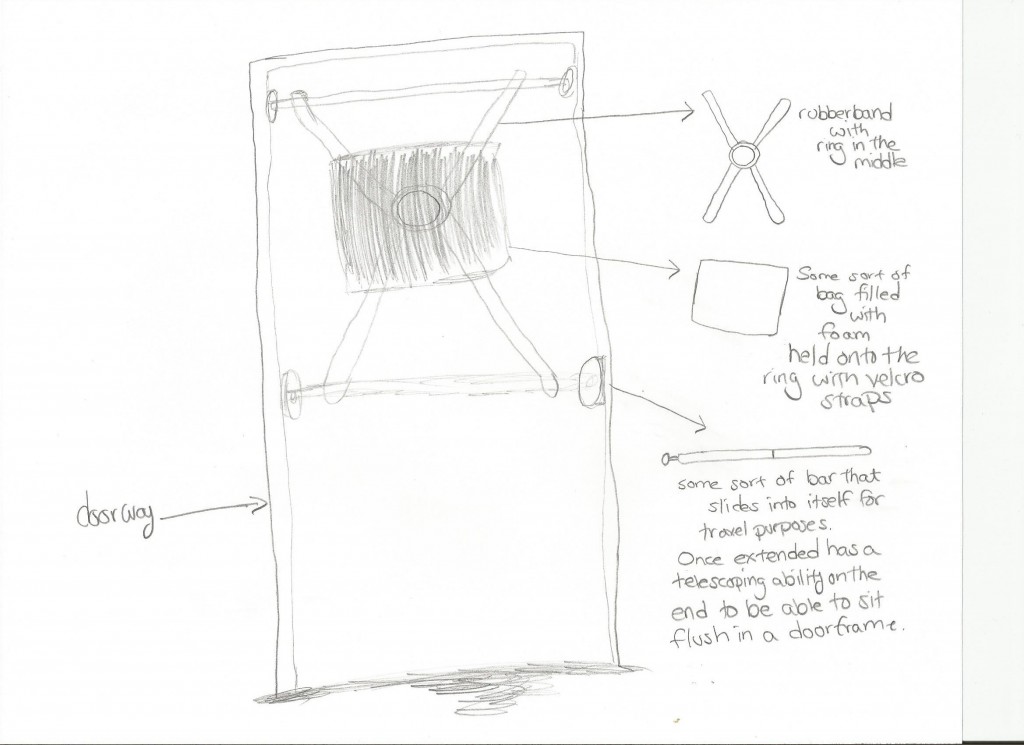 For the pad, PRG used a combination of open-cell and closed-cell foams. The precise layering of the material was designed to produce long-term durability with minimal noise, while also remaining economical. PRG also tested exercise stretch bands of different weights to identify one that could support a "bag" made of mixed foam components while also standing up to impact. The product had to be able to take a punch, snap back, and be ready for another punch without making much noise. The mount structure was similar to a shower curtain rod, and was designed to secure the Quiet Punch bag in a typical 30- or 36-inch doorway.
Developing Quiet Punch did present a number of obstacles. According to Tyler at PRG, the initial concept design wasn't that difficult. The prototype involved layering plastics, foam, and metal to produce a product that was completely stable. Once PRG figured out how all of the components would come together, they knew they were off to a good start. But according to Brian, finding the perfect balance was difficult. After all, the structure had to be able to take straight punches, jabs, and crosses. It also needed to be beginner-friendly rather than catering to the advanced boxer (who most likely has access to a gym with a heavy bag). In the end, Brian and PRG worked together to develop a version that could handle a lot of impact from an experienced boxer, while also being intuitive even for beginners: "PRG came up with a process with the support bars that was quicker to set up than a standard pull-up bar, yet durable enough to handle the punches," Brian explains. "They also came up with a really slick punching bag structure that has stayed through the life of the revisions and can be seen in the final version as it is today."
THE PRG PROTOTYPING SOLUTION
In the end, Brian is satisfied with his work with PRG.
"The collaboration with PRG was an amazing experience. I had the idea for Quiet Punch one day in my apartment, and I created a sample with pull-up bars and a duffel bag. I Googled 'prototype companies,' and PRG was the first to catch my eye. I sent a message, and Tyler at PRG was the first to get back to me. The process was so quick, mainly because I knew exactly what I wanted. They stepped me through each part of the process, and within about 5 months I had a fully working prototype. It was such an exciting feeling to have a product that looked like a real product."
The process took a little over 5 months, mainly because the scope of the project didn't change much—owing in part to Brian's clear vision, and in part to PRG's excellent product engineering team. Because it is comprised of many different materials—plastics, metals, textiles, elastomeric polymers, and foam— Quiet Punch's development involved virtually every department and person at PRG, including design, engineering, industrial design, mechanical engineering, plastics engineers, and our seamstress. PRG even employed its laser cutting services for textile patterns and metal fabrication. In other words, Quiet Punch was truly a team effort, and this attention to detail is precisely what PRG is known for. In the end, the look, feel, and functionality of Quiet Punch were exactly as Brian had envisioned them.
THE RESULTS
After the first Quiet Punch prototype was created, the product went through three rounds of revisions, all within the scope of the project budget. Brian found himself especially impressed with PRG's ingenuity when it came to designing the framework of bars used to secure Quiet Punch to doorways, and notes that "the engineers at PRG knew what to do and really came through." He continues, "Tyler and his team have been incredible. Not only was the prototyping process seamless, but their network connections allowed me to find an excellent manufacturer, KDK Technology, with a production facility based out of Shenzen in southeastern China. That connection was priceless."
This year, Brian sold his New York-based gym and its membership and used the proceeds to order the first inventory of Quiet Punch units. Quiet Punch has now been featured in two different infomercial presentations and is available for online purchase at www.QuietPunch.com. According to Brian, the response to his invention has been nothing short of incredible—so incredible, in fact, that he is already working on new versions of his design. Brian is especially interested in developing a Quiet Punch for more advanced boxers, as well as in expanding his product line to include other exercise products (such as a "Quiet" product that allows you to jump rope!). "The possibilities," he says, "are endless!"
ABOUT PRG PROTOTYPING
Whether you've committed a sketch of an idea to a cocktail napkin or have a fully fleshed-out product in mind, PRG Prototyping can help you transform your concept from dream to reality. At PRG, product development isn't just a job—it's an art. Why not let us help you with your product idea? PRG Prototyping specializes in designing and building new products, with a focus on concept design engineering, design for manufacturability, prototype development, production, and marketing presentations. PRG can also provide information on patent protection and intellectual property services.